OUR PHILOSOPHY
STOP DETERIORATION

RESTORATION

MAINTENANCE
LESS IS BEST!
We don't want your doll or toy to look new or like a different doll or toy. We want her to look unrepaired. She should look her age; we want to keep her as original as possible.
If she is old, she should look old, we all get wrinkles!
We recommend- stopping deterioration, restoration and maintenance; not stripping, replacing or updating!
When not repairable-replacement is OK!
Keep your doll or toy in conditions that you would be comfortable in.
Proper care will slow down the aging process.
DO NOT
Keep in an attic or basement
Keep in direct sunlight
Keep in moist or dry areas
let small children play with them
Store in any type of plastic
Before & after photo of 30 year old Snoopy! He was very loved and carried around by his neck. He could not hold his head up. We had to clean him and do a neck transplant so he could go to the next generation to be loved!
HANDLE WITH CARE! OLD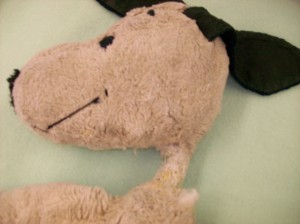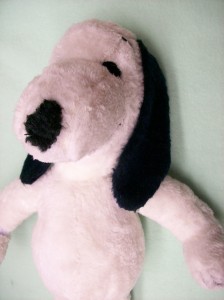 DOLLS & TOYS ARE VERY FRAGILE!