Doll and Toy Hospital
Children:  Children's toys and dolls are our priority.  Their playtime friends come first.  We try to have them in surgery, operated on, treated and back to health in 1- 7 days, depending on the severity of the illness or injury. We perform emergency surgeries as needed basis for a rush charge. Call to schedule an appointment. 630-369-2522.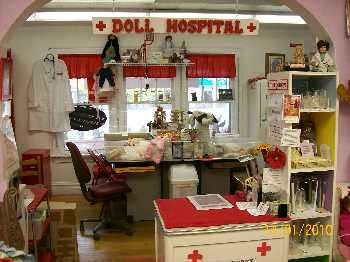 Adult:  Doll repairs take one week to 3 months depending on the extent of the damage and difficulty of repair. We offer an emergency surgery option for a fee. Your doll will be put  on the operating table within a week or two for an additional rush fee of aproximatly 25%.  We repair toys, dolls, bears, head bobblers, stuffed animals and miscellaneous items.
Announcing New Immediate Care Service! Express one week or less surgery! We have doctors on staff to serve simple ailments. For minor doll surgeries such as: restring & cleaning! Call and set up an appointment for a free exam! Exams are free with an appointment. Toys can also be dropped off for an exam. The charge without an appointment is $20.00. This fee can be applied to a repair otherwise it is non-refundable.
Call and make an appointment for a free quote.
Shipping Items for a quote:
If you ship your items, enclose a payment of $30.00 to cover the cost of the quote and return shipping. Also include your name, address, phone number and your email address. Most quotes are emailed within a week of receipt of toy.
Our most popular repairs:
American Girls, Antique Dolls and Stuffed Animals.
Materials We Clean and Repair:  Composition, plastic, cloth, leather, fur, hair, yarn, paper, porcelain, wood, rubber, resin and others.
Angelic Creations |  816 N. Washington Street  |  Naperville, IL  60563